Menon Renewable Feed (MrFeed®…Feed for Life)
A Global Leader in Sustainable Animal Feed
Menon Renewables is an emerging industry leader meeting the requirements to feed a growing world population. Through its unique and proprietary bio-mass conversion process, called CelTherm™, to convert organic feedstocks into high value animal feed products, the company is able to produce superior performing feed at a competitive cost. Instead of growing grain on horizontal farms that take up land and precious resources, the Menon process is completed in vertical farms, i.e. fermentation tanks! This process which utilizes multiple sources of used and processed plant material, provides the market a sustainable and renewable source of highly desirable animal feed.
After seven years of research, testing and continued product and process development, Menon initiated commercial production of its MrFeed® product for use in aquaculture and is now positioned for rapid and sustained commercial growth.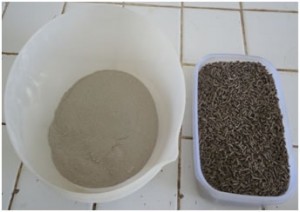 Menon MrFeed® before (left) and after (right) being pelletized.  These pellets serve as ingredients within fish feed, poultry feed and feed for other animals.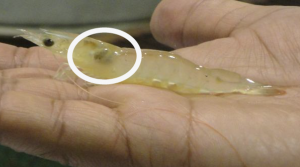 Healthy Pacific white shrimp (Litopenaeus vannamei) after ingesting a pellet of Menon MrFeed®
The U.S. Department of Agriculture (USDA)in its recent review and testing of Menon's feed products in fish trials has stated Menon's technology has the potential to be a "game-changer" through a highly efficient conversion process utilizing agricultural byproducts to produce high protein feed. 
Company Highlights
Superior Technology and Process – proprietary production process provides long term sustainable competitive advantage
Growing Worldwide Demand – aquaculture is  a large and growing market with requirements that speak specifically to the attributes of the company's products
Low Cost of Entry – company's ability to use plant matter and to repurpose existing fermentation plants provides lower cost production and capital investment
Protected Platform – Global IP has been filed to protect process and ensure future success
Technology Highlights
Menon has issued and pending patent applications, proprietary inoculums and nutrients, and trade secrets for optimizing product results, both in yield and value.
The unique bio-mass conversion process provides a number of key product characteristics that make it attractive to aquaculture. In recent years, aquaculture has struggled with increasing mortality rates that have had a significant negative impact on yields for operators. On a commercial scale MrFeed® demonstrated better yields than commercial diets.  MrFeed® is easily digested by the animal due to its amino acid, pre-biotics, vitamins and minerals profile.
The production process uses raw feedstock which allows it to avoid the use of high cost enzyme-processed food sources. It also allows for using heterogeneously mixed feedstock providing flexibility to substitute differing feedstocks as market conditions change. MrFeed® does not use animal based proteins and fats.
A combination of creating high value end product from abundantly available feedstock results in a sustainable and attractive solution for the aquaculture industry.
Compelling Product Attributes

Higher survivability
Rapid and sustained growth
Improved immune system
Lower risk for contamination
Potential to be certified organic