Mentor Technology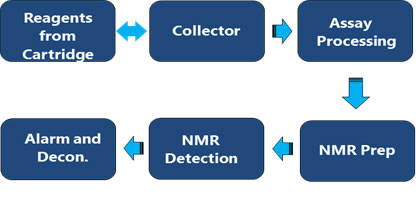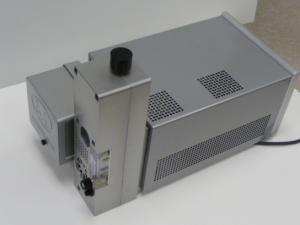 When air or water sample enters the biodetector system, the DNA is extracted and denatured. Multiple probes then bind selectively to analyte DNA leading to strain specific detection. Enhanced sensitivity is achieved through the use of nanoparticles. A single DNA strand can accommodate several nanoparticles. Agglomeration of nanoparticles as a result of binding to threat DNA leads to a signal.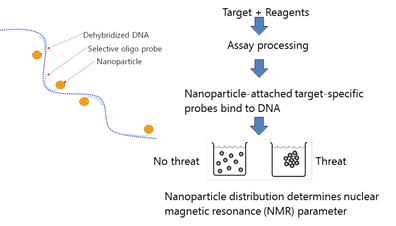 All reagents are inside a cartridge including the cleaning fluids. A sample enters the collector and is drawn by the pump within the microfluidics system. The samples go through heaters to process the sample and mixed with the functionalized nanoparticles. The sample finally enters the NMR chamber for measurement. Upon detection the system sends an alarm to the end user. System is automatically ready for next sample.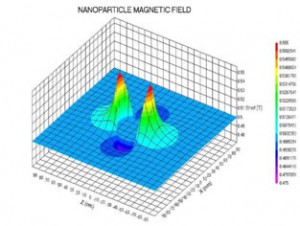 Figure shows magnetic field near a nanoparticle. Positive peaks (red) correspond to the "poles" of the particle, along the applied-field direction. Reduced-field regions (purple) correspond to the "equator" of the particle. As soon as the analyte displaces the magnetic field as a result of binding signals are received. Such models help the team evaluate different types of nanoparticles in terms of size, shape, paramagnetic properties, etc. Nanoparticles can be tailored and processed to optimize speed of detection, sensitivity and specificity.